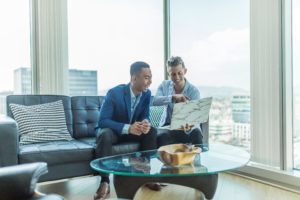 Everybody needs someone to lean on — especially entrepreneurs. Founding and running a business might seem glamorous and fun at first, but the process
of starting up a company can sometimes be lonely, confusing, and downright stressful. Having a mentor to turn to can be the difference between quitting prematurely versus digging deep.
I've been a mentor for a long time. I've also been a mentee. I can say without hyperbole that being part of a mentorship offers countless benefits if you're someone who wants to achieve and grow. First, you get the advantage of knowing what's worked so you can duplicate it. There aren't a lot of original ideas in business. Most are borrowed. A mentor can help you determine which unwritten rules to follow based on their own successes and failures.
Secondly, a mentor can help you see the reason for whatever's happened. I've been through some challenging moments, and I've come back stronger bec
ause I've trusted God to show me the lessons behind the setbacks. I leverage my experiences when I'm mentoring someone else so my mentee can gain the value of perspective.
Finally, a mentor can be a terrific, non-judgmental sounding board. Sometimes, you can't solve a puzzle until you talk it through. Mentors have the hindsight to help you ask the right questions and perhaps avoid unforeseen pitfalls (or at least recover from them more quickly if you get caught in entre
preneurial quicksand).
How to Find a Business Mentor Who's Right for You
Trust me when I say that there's a mentor for everyone, including one (or several) for you. Finding that person will take a little planning and patience, though. Try these steps to identify the ideal person to play the role of your business's North Star:
1. Create a mentor job description. Pretend you're writing an ad for a mentor. What characteristics would you want your mentor to have? What about expertise or educational credentials? Be very specific in your description and dream big, even knowing that the mentor you ultimately get might only have a few of the attributes you've indicated.
Why do this exercise, then? By constructing a job description for your future mentor, you define what's most important to you. You also give yourself a better unders
tanding of what to look for in a mentor relationship.
2. Seek out potential mentors within your company, in civic organizations, or online. With your job description in hand, conduct a little research. Who do you know who fits the description to some degree? Jot down a list of folks. They might be working for your current employer, be a trusted neighbor, or maybe are a mutual friend you've connected with on LinkedIn.
Once you have your list of prospective mentors, contact your top one or two either through email or, if you already have rapport, via a quick video encounter. Explain that you're seeking a mentor and would like to see whether they might be open to a mentoring relationship. Be aware that some people might not be interested. That's OK. You only need one "yes."
3. Make sure your mentor has the same values as you. It can be tough to get the most out of any mentorship if you don't feel a strong connection with your mentor. Be sure that you and your mentor see eye-to-eye and have a similar vision for the future. Otherwise, you might find it difficult to take your mentor's advice.
Of course, taking that advice also means being accountable for following through (i.e., knowing how to be a good mentee). Honor your mentor by implementing the plans you construct together. Nothing's more frustrating from a mentor's viewpoint than spending a lot of time with a mentee only to discover that the mentee has no desire to fulfill any extra responsibilities.
4. Ask yourself if you already have an informal mentor. It's entirely conceivable that you could have a mentor right under your nose and not realize it. For example, is there someone at your workplace or an individual (who's a nonrelative) from your private life who you turn to regularly? That person could be a possible mentor. In fact, you might already be in a sort of mentor-mentee partnership, even if neither of you has said so explicitly.
Many times, we have potential mentors in our lives and simply don't recognize them as helpful guides. If you already have inroads with someone like this, talk to them about formalizing your mentorship. It might not happen, of course, but it might also be one of the smartest moves you make all year.
This year has been one for the record books on plenty of levels. It has also opened the doors for entrepreneurs to focus harder on what matters most. If part of your mission moving forward is figuring out how to find a mentor, start making those goals a reality right now. By this time next year, you'll have moved the needle much further in your quest toward personal development.