(Columbia, MO) In the heart of mid-Missouri, there is a destination called "The District". Downtown Columbia, Missouri is branded with this name. The District continues to flourish, being composed of businesses, government offices, non-profit organizations, and residents. Adding even more value, it is conveniently located within walking distance of major universities—the University of Missouri, Columbia College, and Stephen's College.
Located in The District, 818 Broadway was purchased in 2018 by local entrepreneur and businessman Greg DeLine. The building was previously owned by Landmark Bank owner Mark Landrum.
Landrum completely remodeled the upstairs and developed it into three upscale apartments. The most luxurious of the three, branded A View of Broadway, provides the feel of a swanky, New York City loft. The enormous windows looking out onto Broadway showcase a great view of Columbia's downtown atmosphere. There are two other three-bedroom apartments that are perfect for overnight experiences such as Mizzou football games and other exciting events happening in the city. Learn more at 818broadway.com.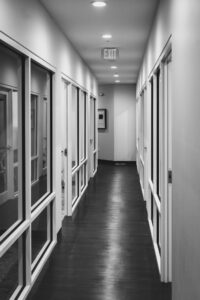 The main floor, which was previously the home of a long-time Columbia institution, Maude, has now also been completely remodeled by DeLine. Well-known renowned local interior designers Paige Davis and Drew Parker did not hold back in bringing a fresh vibe to the heart of the city. In designing 818 On Broadway, the intention was to create a simple, streamlined space that both emphasized and honored its downtown Columbia location. Since many interior walls were removed during construction, the floor plan was redesigned to flow from a spacious and sophisticated lobby to private offices leading up to the executive suite. The suite's brick accent wall adds a sense of history, which is then layered with collected art, bold wall coverings, and contemporary lighting. Overall white, grey, silver and navy color themes combine texture and sheen to create an energized work environment as stunning from within as it is from the outside. This space is bold and dynamic, expressing the idea that the future is now. The offices are home to various DeLine Holdings, LLC organizations such as Alpha Real Estate and Total Lending Concepts.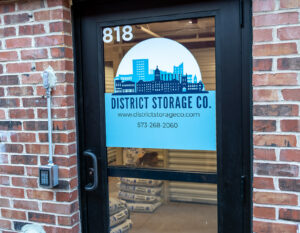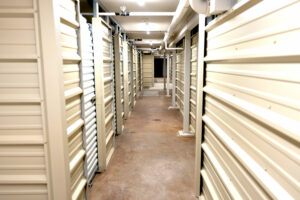 The work didn't end there. DeLine recently transformed the lower level of 818 into brand new, convenient storage units, thus the birth of District Storage Co.
DeLine said, "We have a really cool thing happening in constructing our lower level into twenty storage units. Everything is freshly built, and I feel this is a unique amenity to add to our thriving downtown. This will be a real asset for downtown businesses, as well as residents and students needing some extra space. Not to mention, it's highly convenient with access just off Ninth Street."
You can learn more and book your space today at districtstorageco.com.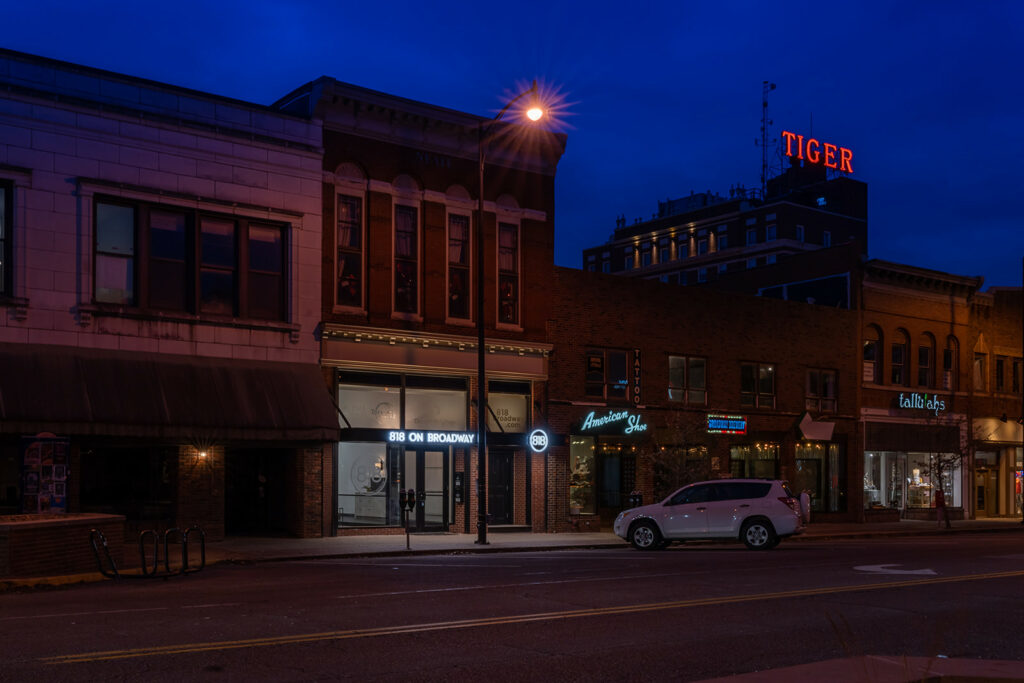 The final statement upgrade to the building is the recently added exterior canopy. The modern, LED-lighted letters light up the heart of Broadway tying in the overall vibe and style of this downtown location.
"At 818 on Broadway, we showcase our building with a beautiful awning that we're extremely proud of.  There's only one chance to make a good first impression, and we wanted to make it count.  It's such a wonderful touch to our downtown area," DeLine stated.